I have a confession to make to you. I am a Mac person. I have been a Mac devotee since I married my husband in 2005, when he totally converted me from being a PCaholic. I use a MacBookPro (yes, I'm typing on one right now…), and I love, love, love OS X. What does this have to do with travel? Well I wanted to review my favorite iPod touch, iPhone, and iPad games, and if you don't have any of these devices, let me apologize in advance. I don't have a droid, so I have no advice as far as that goes, sorry.
My parents bought us an iTouch 4G for Christmas last year because they knew that even if Travis was working on the computer, I could use it to Skype with them so they could see the girls. Well, it has turned out to be something we use for much more than that. I don't want to say this small device has been life changing for us because that sounds so dramatic, but it has definitely been a help in many situations. I have been wanting to write about this in relation to travel, but I finally got the kick in the pants I needed this week. I won a free case for it on TentBlogger (a website you should seriously check out if you are into any type of blogging). Thanks John! So… here we go!
One thing I do occasionally is check out the iTunes store for free TV episodes. They have been getting more and more kids shows on there, including some of our favorite PBS Shows like, Sesame Street, Super Why, and Word World. You can also find Nickelodeon shows like Dora the Explorerer, The Backyardigans, and Blue's Clues. If you find every free TV show under these two stations, you will have around 10 different 20 minute shows, and you don't gave to spend any money for them! On the plane ride from Athens to Budapest recently, Katienne enjoyed watching Blue's Clues, and everyone else on the plane enjoyed the pause in her crying while she watched it.
Games are next on the list. I had a really hard time finding age appropriate games for my kids that they actually liked. So here are three from my personal arsenal, that are Ksena and Katienne tested and approved. Sorry, they aren't free, but they are cheap, and awesome. Just a note, all the prices are in USD.
1. Animal Hide & Seek Adventure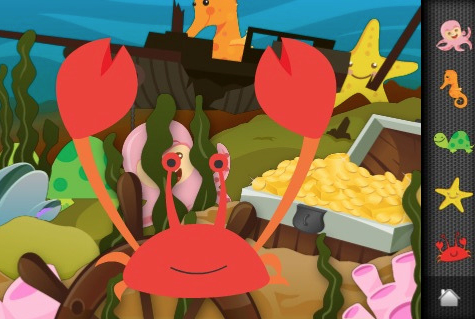 Price: $0.99
My two year old can play this game by herself with no problems. You go through the picture, touch the animals you see hiding, and after you find all of them, they get together and congratulate you with music. There are three different settings and each setting has four different hiding scenes. The music is also surprisingly fun.
Price: $2.99
These are not your normal flash cards! Each one has some kind of interaction, and to be perfectly honest, my 4 year old is actually learning the alphabet from this app (although homeschooling her is probably helping a bit too 😉 ). It is fun, the music is great, and whenever my two year old hears the music, she runs over, knowing she is in for a good time.
Price: $0.99
This is also a learning program that teaches counting, shapes, and letters, but there are also some fun features like playtime, and matching. This app takes the cake as far as entertainment level. The only thing I don't like about it is that there is a small advertisement in the corner of the main screen for other Duck Duck Moose products. My kids love playing with the main screen because you can hatch little fish eggs and watch them swim into position around the mommy fish, but if I let them play on that screen, they always end up hitting that button. We get it Duck Duck Moose… you have other products, but please take advertisements out of your apps. I'm tired of my kids clicking on it.
As far as fun for the adults, might I recommend Angry Birds (a serious geometric based addiction of mine), Kindle (as established in my About section… I LOVE to read, and you can find free books in the Kindle store on Amazon), and Wheel of Fortune (Trav and I play together).
What are your favorite apps? Do you use technology to entertain your kids while traveling?