If you don't have a latch carseat, check out this updated post.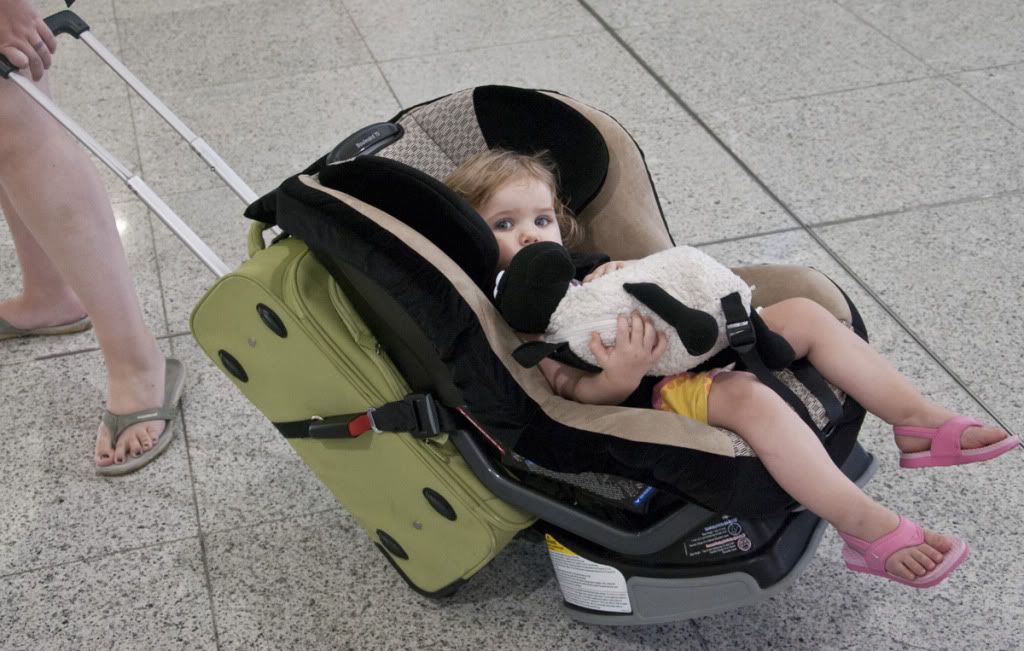 On our first cross continental flight with our kids, things did not go as smoothy as I wanted. I knew that there could be a better way, but I wasn't sure how to accomplish that. Naturally, I started researching! I originally found a product at One Step Ahead that I thought would be helpful, a cart that you put your child's car seat on so you can use it as type of stroller. Carrying two car seats through the airport was definitely something I wanted to avoid doing again. But the price tag was purely ridiculous! For $80, I would expect a lot more than a car seat dolly.
Then on Amazon I typed in, "car seat luggage" and found a strap that uses your rolling carry on as a dolly for your car seat. I was amazed. A quick type of my ebay login and $12 PayPal dollars later, I had ordered something I thought would be amazing. It operates using the LATCH system that all new car seats in the United States have (if you have a car seat that is not from the US, check out the TOTEaTOT below). The truth is, the Traveling Toddler Car Seat Travel Accessory is pretty amazing (although they could have shortened the name… wow), but recently as I was perusing the Amazon reviews I came upon a highly useful one by "Jessica." This is what the review says:
"I showed my husband the picture of this item because I thought it looked pretty darn smart. Well, two minutes later he had the carseat attached to the rolling carry on WITHOUT an added purchased strap. You still use the seat hooks from your car seat – both side clips and the top clip. Put the top car seat hook under the top handle of your luggage & the side ones simply around the sides of the luggage. Buy a $0.50 metal ring from a hardware store & clip the car seat hooks to it & tighten all straps. Voila! We tested it with our kiddo in it & she giggled as we wheeled her around the house. Perfect."
First of all, Jessica, where have you and your husband been all of my life? Second, this is so smart!! I could have saved $11.50!! In fact, we probably will buy a ring and do this, because our carry on is kind of small, and the TTCSTA we bought is a little bit too big for our otherwise alright rolling carry on.
Then yesterday when I was checking out Zulily.com (sometimes they have amazing prices, although I haven't personally bought any products off of it yet. They recently had a Dash with doubles kit and two weather covers on sale for $449.99… a seriously good deal!) I noticed something called a TOTEaTOT on sale for half price (they are normally $30) that does the same thing as the $0.50 ring from the hardware store, but it works for car seats that do not have the LATCH system, and it has a bag you can put stuff in. Nifty! So, if you don't have a car seat with the LATCH system, this seems like an interesting alternative. Although a lot of reviews on this product are disappointing to say the least, so I would definitely go with Jessica's homemade solution if you do have the LATCH system.
This will seriously help you out, and then you can check your stroller in with the rest of your luggage instead of lugging it through the airport. We find this solution to make layovers and security much easier. Of course, I recommend using this technique with an air friendly car seat.
What inventions have you found that make traveling easier?